Protect Yourself, and Your Family!
By obtaining a Texas License to Carry a Handgun also known as an LTC, you will not only be able to better protect yourself, but your family as well. This 5 Hour course will give you the instruction and testing you need to complete your application with The State of Texas for your licensing.
Our classes are fun but very thorough! Our goal is to make sure you have a solid understanding of Texas carry laws and you receive the highest quality of instruction from our Master LTC Instructors. We look forward to having you join us soon!
Class Cost: $175 to be paid in full in order to reserve slot.
Payment is non-refundable
Due to the current world events we are having to drastically reduce our class size due to CDC recommended social distancing only 9 students will be allowed to attend each class. The Class will be held in the Pavilion where there is more than enough room to follow CDC recommended Social Distancing.
New Applicant Information
What is a LTC? A LTC (License to Carry a Handgun) allows for the concealed, or open carry of a firearm in the State of Texas for personal protection. LTC's are administered by the Texas DPS under the authority of the Texas Government Code Chapter 411, Subchapter H. The DPS licenses individuals to carry concealed handguns within Texas, and evaluates the eligibility of applicants through criminal history background checks and monitors those currently licensed to ensure their continued eligibility. The DPS also trains and certifies instructors who teach the required course to applicants.
What are the costs involved with getting my LTC?
The cost of the class: $175 to be paid in full prior to class.
Application fee: $40 (original) – $40 (renewal)
Fingerprinting fee: $9.99
Some government discounts apply including but not limited to:

Senior Citizens (60+)
Active or Retired Military
Active or Retired Peace Officer
Judicial Officer, Felony Prosecuting Attorney, and More.

See LTC Fee Table for a more information and a complete list of applicable discounts.
At what age can I get my LTC? You must be 21 years of age to receive your LTC. However, you may take the class before your 21st birthday as long as you are turning 21 in the same calendar year.
How long is this class? The class lasts 5 hours, including the shooting tests.
How long will my LTC be valid? Initial licenses are valid for four year terms. Renewal licenses are valid for five years. The license will remain valid as long as you continue to meet all the eligibility criteria.
Do I need to apply for my LTC online before taking this class? You may apply online before taking the class to make things faster, however, our instructors can help you fill out an application as well. For an application Click Here
How do I register for this class? Just click the SIGN UP button below.
How do I pay for my class? You may pay for your class in our store before registering for your class, or by phone via credit or debit card at: 1-800-720-3275
What to Bring to Class
TX Driver's Lisence or State Issued ID

Eye Protection

Hearing Protection

Handgun (.22 Caliber or larger)

50 Rounds of Ammunition

Clothing that is suitable for shooting range and weather conditions.
Shooting Test Information
Handgun LTC Requirements:
Must be a .22 caliber or higher to qualify. There is no minimum caliber to legally carry as long as it is a legal pistol. There is no longer a classification of concealed handgun license. If you qualify with a revolver you can carry a semi-automatic.
Number of Rounds Fired:
The shooting test requires 50 rounds of ammunition
LTC Shooting Distances:
The LTC Shooting test is fired at three distances:
3 yards – 20 rounds fired
7 yards – 20 rounds fired
15 yards – 10 rounds fired
The majority of students pass the proficiency test when they have completed shooting at 3 and 7 yards.
LTC Shooting Proficiency Test Scoring:
5 points – shots fired in the X, 10, 9, & 8 rings
4 points – shots fired in the 7 ring
3 points – shots fired outside the 7 ring but on the silhouette
0 points – shots fired outside the silhouette or off the target paper
Shots that hit just outside the ring but break the line count as the higher score.
Passing Score:
The Texas LTC shooting test passing score is 175 points out of 250 points or a score of 70%.
The state allows for three chances to pass the shooting test.
LTC Renewal
As of September 1, 2013 class time and range time are not required for LTC renewals.
Original licenses are valid for 4 years, renewed ones are valid for 5 years.
LTC renewals are handled by the state. For a link to the license renewal form Click Here.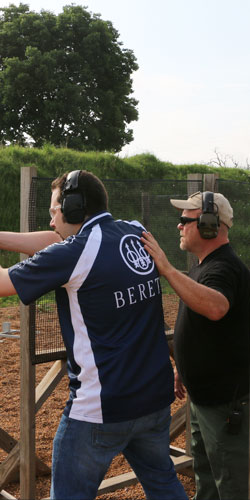 UPCOMING CLASS DATES:
2020
December 5th 8:00am
2021
January 9th 8:00am
February 6th 8:00am
March 6th 8:00am
April 10th 8:00am
May 1st 8:00am
June 5th 8:00am
July 10th 8:00am
August 7th 8:00am — Cancelled